With the so many smartphones and other smart communication devices, many folks don't see the need for emergency ham radios for backpacking when you could just use any smart device to keep in touch in dire situations.
For those who know, ham radios pack several advantages that can't be found in smartphones and gadgets that depend on cell networks to work optimally.
For instance, in the backcountry, cell phones become useless if there is no cell tower nearby. Ham radios though, are independent of cell networks and work excellently as long as there is power in the device and the other are receivers within range.
And of course, with ham radios, you save cash on network calls because it is completely free.
Because there are hundreds of ham radios on the market, choosing the best emergency ham radio for backpacking can be hard unless you are a veteran user and know exactly what you need.
In this guide are five of the best emergency ham radios for backpacking. It is a comprehensive guide based on hours of research just so you don't have to go through the arduous task of looking for the most suitable emergency transceiver for your backpack.
Emergency Ham Radio for Backpacking: Buying Guide
Whether purchasing a ham radio online or from your local mall, certain features must be present. Without these specs, your ham radio would either be unsuitable for backpacking or for an emergency or both.
The following are some of the important features to consider when purchasing an emergency ham radio for backpacking:
Frequency – If you are new to ham radios, the frequency (or frequencies) of the device is one of the most important considerations.
For the gadget to be effective during emergencies, it must have access to both UHF and VHF bands. These bands are preferable to HF bands because the power requirements needed to operate them are not so high.
Ease-of-use – During emergencies, what you don't want is to waste considerable time fiddling with button and knobs on your ham radio before you can send or receive messages. The time wasted could be the difference between resolving your situation and making it worse or even irredeemable.
A radio that is simple, with the buttons and knobs conveniently located and easy to access should be a priority for you.
Range – In most emergency situations, help can only be found miles away. And the only way to make contact is if the radio comes with an impressive range.
All the devices in this guide have effective ranges that are up to up there with the best. To be clear, an effective range of fewer than 2 miles is not good enough for a communication device during emergencies.
Portability – The best fit for a backpack ham radio must include size and weight that make it very portable.
Backpacks must be as light as possible so that they can be carried around easily for several miles. If you have to keep the device in your backpack, its weight must not make the backpack considerably heavier.
Besides, during emergencies, you might have to hold it for several hours so avoiding a heavy device is important.
Basically, portability implies that:
The device must not be too big for your hands

It's not too heavy so you don't get tired of holding it after some hours.

The device must come with clips and straps to hang/clip it to your belt or strap around one of your arms.
Power – The range of portable ham radios is linked to the power setting of the device. The more power integrated into the circuit, the further the range.
That means a 5 watts radio is capable of communication over longer distances than a 2 watts rated device. At all times, always prioritize a device with a power rating of at least 5 watts.
The best option, though, is a radio with adjustable power settings to easily switch from low power to high power depending on your needs at a particular point in time.
Battery – A portable ham radio with a flat battery is simply a piece of junk. It is of no use to you or anyone. This is what makes the type and quality of the battery one of the most important factors to consider when choosing an emergency ham radio for backpacking.
The best gadgets come with dual power options: rechargeable and disposable batteries can be used to run them.
For single power radios, the rechargeable batteries must be able to power the device for at least 24 hours of continuous use at the highest power rating.
On the other hand, buy as many disposal batteries as possible if your chosen device can be only be powered by disposable batteries. However, it is rare to come across good ham radios powered by disposable batteries only.
Backlit display and illuminated keypad – A device with a backlit display is important in case you find yourself in the dark or a place without proper illumination.
However, since the lights also use power from the battery, an option to switch off the backlights when they are not needed must be included.
---
Top 5 Best Emergency Ham Radios For Backpacking: Review
1. Tri-Band Yaesu VX-6R Submersible Amateur Ham Radio
Yaesu's VX-6R Amateur ham radio is designed for the outdoors. It is compact and very rugged though you might be put off by the 9 oz weight of the device making a bit heavier than the others in this review.
It is a tri-band gadget that comes with the Emergency Automatic Identification (EAI) system; a great feature to help keep you safe in an emergency.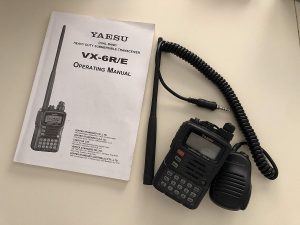 It also features 900 alphanumeric memory channels, password functionality to protect the device, a Morse code trainer, weather alert, multicolor LED backlight and much more. In terms of functionality, it is able to receive AM/FM transmissions, CB, Aircraft, Police, shortwave and marine bands transmissions.
The device is designed with a waterproof aluminum case and comes with an antenna, 1500 mAh battery, and battery charger.
---
2. Mirkit UV-5R MK4 Portable Ham Radio
The UV-5R MK4 from Mirkit is a CHIRP-compatible and easy-to-program device that would meet all your requirements for an emergency ham radio for backpacking.
With three power settings of 1, 5, and 8 watts, the device is able to communicate with other devices miles away at 8 watts and to save battery, you could easily switch to a lower power setting especially if you want to auto scan active channels.
It is dual band UHF/VHF radio with a broad spectrum frequency range integrated with dual-band display and dual-frequency display on the backlighted LED display.
Other features include the built-in VOX function, LED flashlight, FM radio, burst tone, low battery alert, keypad lock, and channel monitor among others.
The pack comes with 1800 mAh rechargeable battery, antenna, earphone mic/headset, a belt clip, hand strap, adapter, desktop charger, and user manual.
Sale
---
3. Kenwood Original TH-D74A APRS Handheld Transceiver
The Kenwood TH-D74A transceiver is a lightweight, high-end ham radio that comes with several impressive features to justify the relatively high price tag.
The device is sleek and rugged with an IP54 weatherproof rating designed with intuitive controls and menu to enhance the user experience. It has 4 different power output settings between 0.5 and 5 watts.
The wideband and multi-mode reception radio comes with the APRS communication protocol, D-star radio communication network, TFT display for easy reading of the display, auto-clock setting and much more.
Veterans would love the improved filtering of SSB/CW/AM reception, great DSP-based audio processing and voice recording, Bluetooth-compatibility, high-performance GPS, and external decode.
However, for such a pricey and high-end device, battery life is not so great. If you decide to get this awesome ham radio, get extra batteries too.
---
4. TYT UV800E High Power Dual-Band Transceiver
No products found.
This dual-band portable transceiver is the perfect device for hammies looking for a portable gadget to include in their backpack in case of emergencies.
The UHF/VHF device has an effective distance of about 4 miles at the highest power setting of 10 watts. The alternative, lower power setting is 5 watts.
With such relatively high power settings, it is no surprise it comes equipped with a 3600 mAh battery capacity. That should give you more hours than you need in emergencies.
Some of the awesome features include the low battery alarm, emergency alarm, cross-band repeater function, privacy codes, FM receiver, and hands-free VOX function.
No products found.
The PC-programmable radio also comes with 2 high-gain antennas, software, tri-color display, and a car charger.
No products found.
---
5. Yaesu FT-60R Amateur Radio Transceiver
No products found.
If your desire is more memory for your emergency ham radio, the Yaesu FT-60R is just the perfect device for you with its 1000 memory channels.
The rugged, versatile transceiver comes with different scan modes and back-lighted alphanumeric keypad.
The dual-band gadget delivers excellent signal transmission and audio due to the high-quality antenna. Even weak signals tend to be amplified.
The water-resistant device is made from aluminum cast rendering it immune to minor scratches and scuff marks. It is capable of tracking and receiving signals from aircraft and emergency bands.
No products found.
The Han radio features a 1400 mAh battery, NOAA weather alerts, keypad lock, etc.
No products found.
---
Ham Radio Licensing Categories
To operate a ham radio legally, it is mandatory to get a license. Before applying for the license from the relevant government bodies, you need to be aware of the various categories of licenses available to the public.
These are:
Technician License – This is an entry-level license that gives access to all the frequencies in the 30 MHz band and above. You only need to pass one exam to get it.
General License – To get this license, you must have passed the entry-level licensing exam above.
There are about 35 questions in the examination to be passed. The license grants access to operating modes and all amateur radio bands.
Amateur License – This is the last and ultimate license for ham operators. To get this though, the applicant must have passed the technician and general license exams.
The license removes the last restrictions for access to all operating modes and bands. The candidate must pass an examination of 50 questions.
Conclusion
Though choosing a great emergency ham radio for backpacking might be a frustrating exercise considering the availability of hundreds of products, with the right guide such as this, it becomes less tasking.
Features such as great battery life, range, portability, easy charging option, etc, must be considered before making a final decision. Though it is understandable that the price tag would likely determine your choice, these features must never be compromised to get your money's worth.
That said, the ham radios featured in this guide are the best in their price ranges. You would never rue the decision to invest in any of the 5 devices.
Must Read: Walkie Talkie For Emergency